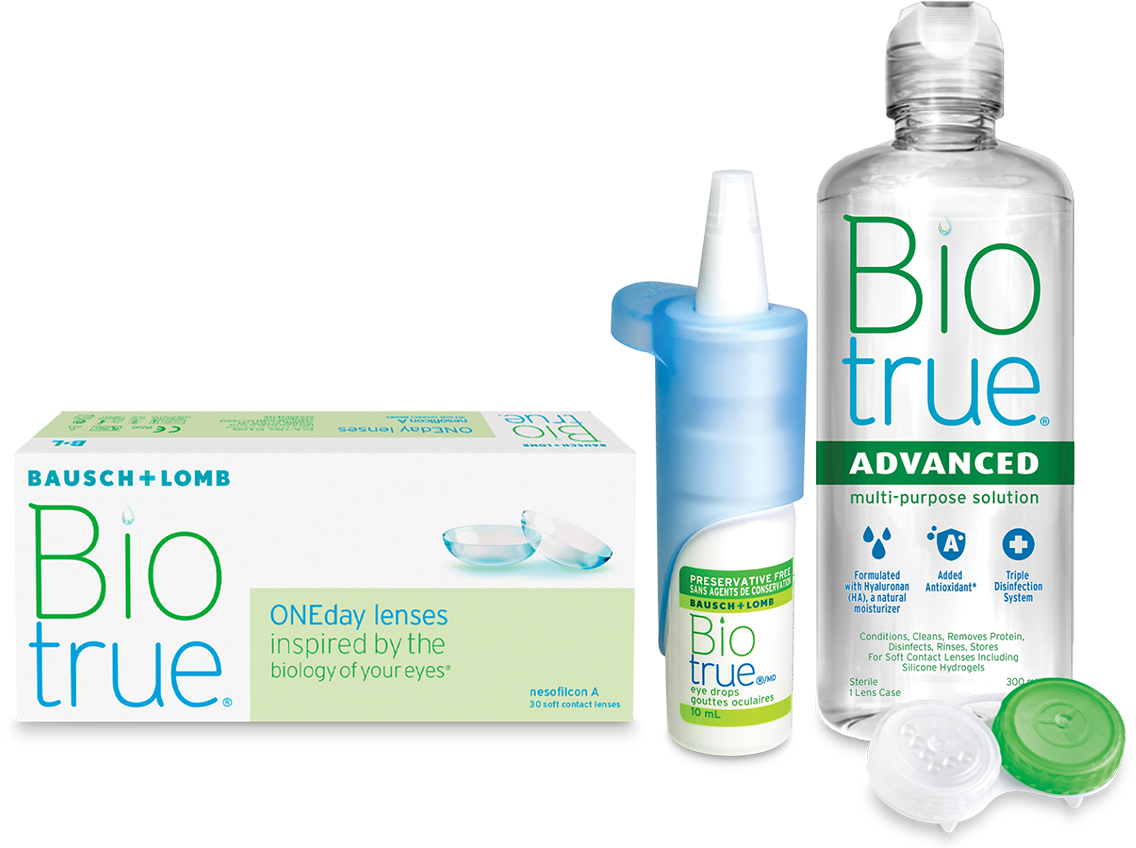 Why treat your eyes with Biotrue®?
Inspired by your eyes.
Biotrue® ONEday has a water content of 78% – the same as your cornea! It maintains nearly 100% of that moisture for a full 16 hours¹. Which is kind of a big deal.
Our contact lens solution and eye drops are also formulated to work like your eyes. In fact they contain the same natural moisturizer that your eyes already have – hyaluronan.
What is Hyaluronan?
Hyaluronan is important to the natural function of our eyes. It's found in our eyes' tears, and it plays a big role in helping to maintain the ideal amount of lubrication.
This water-loving molecule carries 1000x its weight in water, creates a reservoir of moisture on the surface of your eyes, and slowly releases it to ensure your eyes (and contact lenses) stay hydrated – as nature intended2-3-4.
We care for more than just your eyes.
As a brand inspired by nature, we believe it's important to care for our planet too. That's why all our contact lens solutions are 100% recyclable.
Plus, Bausch + Lomb's Every Contact Counts program allows Canadian contact lens wearers to responsibly recycle all brands of contact lenses. There are currently over 750 participating eye care practices nationally and the program has redirected over 8,500kg of contact lens waste since its launch5.
1 Data on file. Bausch & Lomb Incorporated. Rochester, NY.
2 Scheuer CA et al. Retention of conditioning agent hyaluronan on hydrogel contact lenses. Cont Lens Anterior Eye. 2010 Dec;33 Suppl 1:S2-6. doi: 0.1016/j.
clae.2010.10.003. Epub 2010 Nov 11.
3 Frescura M et al. Evidence of hyaluronan in human tears and secretions of conjunctival cultures. Biochem Soc Trans. 1994 May;22(2):228S.
4 Lerner LE et al. Hyaluronan and CD44 in the human cornea and limbal conjunctiva. Exp Eye Res. 1998 Oct;67(4):481-4.
5 Data on file. Bausch & Lomb Incorporated. Rochester, NY.